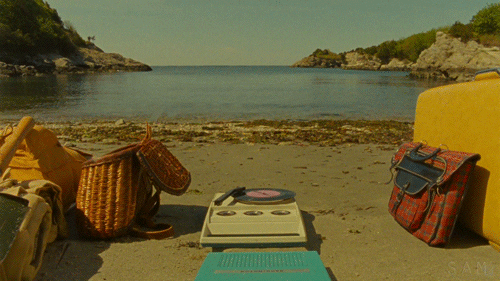 Valentine's Day (or Tuesday, as I like to call it) is next week on the 14th. It has always been a struggle to come up with programming for this day, because I think it's a greeting card holiday and an excuse for emotional blackmail, but at the same time it's a day where people want to dedicate songs to their Shmoopy or whatever. We've done songs of heartbreak, songs of love, the songs of Paul Westerberg, and probably a couple of other things that I can't even think of right now. So it's always a thing when the 14th rolls around about what to do on the show that day.
The scene at Shuffle Function Conglomocorp
We were talking about what to do on the show this morning, and Shelley was suddenly struck with an idea. Why don't we celebrate one of the Many Loves Of Shyboy Tim on that day? More specifically, why don't we celebrate the music of Francoise Hardy on the show that morning? I literally pushed myself across the room on my office chair when I heard this. I LOVE FRANCOISE HARDY. This was the perfect solution! We can play her music, PLUS it will completely legitimize my EP buying binge from a few years ago.
I don't have a problem. Honestly.
So Tuesday the 14th will be Francoise Hardy Day on Shuffle Function! We have the music, we have the adoration, but there's one thing we don't have. We don't have someone that can speak French. 98% of the songs we will be playing have French titles, and we're notorious for murdering most languages, including English. We're at risk of offending all of France and parts of Canada next week. Are you an early riser that also speaks french? Would you want to help out a couple of Francoise Hardy fans that have no idea how to pronounce her song titles? We'd reward you with French Toast and Perrier water, if that sweetens the deal at all. All you would have to do is read the song titles for us, and then you could sit back and check your social media the rest of the time. Or you could geek out about Francoise with us. It's up to you.


FYI,
The Many Loves Of Shyboy Tim
was a blog series that I wrote a few years ago. It ran for about seven weeks before life got too busy and I had to abandon it. Basically, it was me talking about all the pop culture crushes I've had in my life. Francoise Hardy was Many Love #1, of course. I've pasted the original post on the end of this entry. WARNING: There are many video clips to get distracted by. Also, please watch the final clip all the way through, and then tell me WHAT IS THE DEAL WITH THE ENDING?
Shyboy
THE MANY LOVES OF SHYBOY TIM #1
The first in a series chronicling Shyboy Tim's seemingly endless list of pop culture crushes. In this edition:
The above image is the one that put me over the edge. There sits Francoise in her infinite coolness, playing some unknown song that would no doubt take me out of the game. Shelley played this album during the vinyl hours of one of the 24 Hour Marathons, and I lost my ability to focus. She's so mysterious! I admit that this is partly because I CANNOT SPEAK FRENCH, but still. And, despite the fact that this album seems to be impossible to find, Shelley gave me her personal copy. That's the kind of co-host she is.
So here's a bunch of Francoise Hardy, one of the many loves of Shyboy Tim.

Yours,
Shyboy