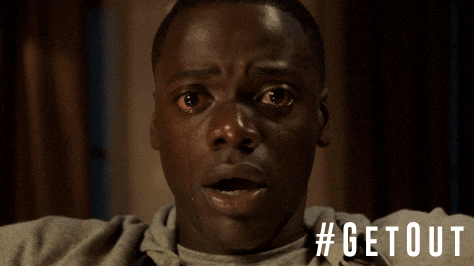 Saturday, August 26th @ 7:00 p.m.
Minnesota State University, Mankato
FREE! FREE! FREE! FREE! FREE! FREE!
The gang around the Grind-Fu Cinema headquarters was saddened to hear about the passing of George Romero a few weeks ago. His movies rank as some of our favorite horror movies of all time, and his skills as a social commentator were uncanny. Beyond that, he virtually created the modern zombie movie. All arguments about whether or not zombies are fast moving or slow moving begin with Night Of The Living Dead, his first and arguably most important film. For the record, Romero was firmly in the slow moving camp, though he was reportedly planning a movie featuring
race car driving zombies
. Maybe we dodged a bullet on that one?
Anyway, when we heard the news about the passing of Romero we knew that we wanted to show
Night Of The Living Dead
as soon as possible. We've show NOTLD a few times over the years, and it's always a thrill to watch. The slow building dread and moments of unspeakable horror never fail to terrify. While the actual gore in the film may be relatively tame by today's standards, it generated quite a bit of controversy. Since then it has built a reputation as a cornerstone of modern horror, and the film has been preserved in the Library of Congress National Film Registry.
So great... we have an evening that starts with one of the most important films ever produced. What on Earth can we possibly follow it with? How about...
Get Out (2017)
Directed by Jordan Peele
The Horror genre, while popular, is usually very formulaic and predictible, so it's cause for celebration when a truly original and effective Horror film is released.
Get Out
is one of those films. It's funny, smart, unpredictible, and terrifying. On top of that, it says TONS about the state of race in "post racial America". This is your chance to see it if you missed it when it came out earlier this year, and if you've seen it you're probably making plans to get your but in a seat for the screening.
Get Out
has more notable things going for it besides being a kick-ass horror film. It was the first film written and directed by Jordan Peele from
Key & Peele
, for one thing. It's also the first film to break the $100 million dollar gross mark by an African-American director, the highest grossing film by an African-American director, and it's the highest grossing debut film based on an original screenplay and story in U.S. history. Not too shabby. Don't miss this film!
Grind-Fu Cinema is always free, so bring your friends, grab some snacks, DRESS IN LAYERS (because the AC can get power mad sometimes) and get ready for a fantastic night of movies with a fantastic movie crowd! Drop us an e-mail at shufflefunction@hotmail.com if you have any questions.
I'm the new boy in town! Where can I go?
MADE POSSIBLE THROUGH FUNDING FROM THE MINNESOTA STATE ARTS & CULTURAL HERITAGE FUND.