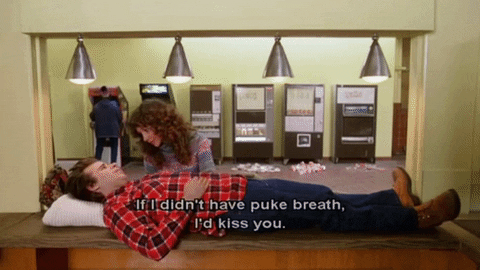 Grind-Fu Cinema presents
STRANGE BREW
and
HEAVY METAL
Saturday, September 30th @7:00 p.m.
Wiecking 220 Auditorium
Minnesota State University, Mankato
FREE! FREE! FREE! FREE! FREE! FREE!
The September Grind-Fu Cinema is going to be a blast of Great White North amazingness! Join us on Saturday, September 30th for a double feature that's up to its neck in SCTV talent. The first film is the most obvious, as it features characters developed for that show, but the connection on the second film may be a little less obvious. Let's get into it...
Strange Brew (1983)
Directed by Dave Thomas and Rick Moranis
It's kind of strange that the breakout characters on a TV show filled with amazing comedians would be a couple of every day hosers that love beer and celebrate Canada, but that's exactly what happened. Rick Moranis and Dave Thomas initially created the characters of Bob and Doug McKenzie to fill show space and mock regulations that demanded a certain percentage of Canadian programming be devoted to Canadian content. Their mostly improvised Great White North skits both celebrated and lampooned Canadian culture, and over time they became a big hit with viewers. NBC demanded that more of them be made for the U.S. broadcasts of SCTV, and the popularity spawned a hit comedy album. It also resulted in the only major motion picture based on SCTV characters.
Strange Brew
follows Bob and Doug McKenzie on their quest to get free beer by claiming there was a mouse in their bottle of Elsinor beer. They end up getting jobs inspecting beer at the brewery, but bumble their way into the middle of a massive conspiracy involving beer and world domination. Also, it's loosely based on Hamlet. We could tell you more, but it'd just come off as absurd, and we wouldn't want that to happen. Co-starring with Moranis and Thomas, who reprise their roles as Bob and Doug, is genuine acting legend Max Von Sydow as the villain.
FUN KATO AREA FACT: In 1995 Max Von Sydow was an artist in residence at Gustavus Adolphus College in St. Peter. Despite the fact that students kept asking him about the film, Von Sydow claimed he didn't remember doing it.
Our second film of the evening will be...
Heavy Metal (1981)
Directed by Gerald Potterton
This INSANE Canadian/American animated anthology film is based on the INSANE international magazine Heavy Metal. The magazine itself is a collection of illustrated stories with graphic violence and sex, which basically means it would make the most amazing animated film ever. Maybe not ever, but the final film became a box office smash, and it became a cult classic. And yes, it's chock full of graphic sex and violence. THIS ONE IS NOT FOR THE KIDS!
Heavy Metal
was animated using the Rotoscope process. This means they shoot film and then draw animation over it. The end result gives the on screen characters a realistic presence, which can be kind of surreal, especially with a crazy film like
Heavy Metal
. The stories are a real trip, too. "A step beyond Science Fiction", as the poster says. Futuristic, fantastic, gory, bleak, hilarious... these are all words that successfully describe this film. Also, the soundtrack is amazing.
THE SCTV CONNECTION: The voice casting draws heavily from SCTV! John Candy, Joe Flaherty, Eugene Levy, and Harold Ramis are featured throughout the film.
HEAVY METAL IS NOT FOR KIDS!
YES, IT IS ANIMATED, BUT IT IS
See both of these amazing movies FOR FREE! Bring your friends, bring sodas, and dress in layers (because the air conditioning can be aggressive) and settle in for a really fun time. Questions? Drop us an e-mail at shufflefunction@hotmail.com
I'm the new boy in town! Where can I go?
MADE POSSIBLE THROUGH FUNDING FROM THE MINNESOTA STATE ARTS & CULTURAL HERITAGE FUND.